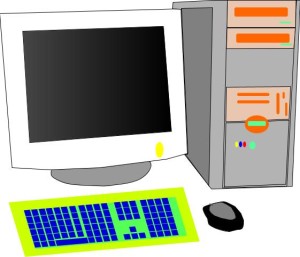 When you work for someone else, there's a lot of support to get your work done. You have a phone system, computer help desk, human resources, a work space and reference material. When you have a solopreneur business, you need to meet all these needs on your own. One of the biggest places I see a problem in this area is business owners who don't have adequate computer support. When you work from home, your computer is a huge part of your business and without it you may not be able to function.
What does it look like to have adequate computer support for your work-at-home solopreneur business? Here's a few ideas:
You have regular backups that run automatically and are stored off-site. Your backup needs to be adequate to get you up and running quickly in the event of a hard drive crash or other disaster, meaning you have to be able to restore your programs and settings as well as your data. Using a manual process may be fine to start, but as soon as you are able get an automated system in place that runs backups automatically. You're already stretched to the max just running your business, do you need one more annoying thing to think about? How hard will you kick yourself when you let this go and and lose a bunch of data because of it? Store your backups off site so that they are safe in the event of a fire, flood or natural disaster.
Have a plan to fix your computer before you need it. Know who to call or where to go. If you computer crashes, you'll be frantic enough without calling all over town trying to find the right person to fix it. In that situation, you won't have the luxury of properly vetting anyone to fix your computer.
If you are able, have a backup plan so you can keep working while your computer is down. This might mean you are able to switch to someone else's computer or work somewhere else with a secure internet connection. Again, this is something to figure out before you need it. Scrambling in desperation is not a fun place to be and doesn't position you to make great decisions.
You may be wondering how I learned all this. I had a computer problem last week, and no thanks to me all this was in place already. My husband is an absolute computer genius, and does a great job maintaining all the electronics in the house. Somehow, I had downloaded some sort of virus that was making my computer slower and slower until it wouldn't function. Thanks to having all this in place, I was able to work on his computer until he fixed the problem. On top of all the regular tasks of running a business, I had a newsletter to get out so it would have a big problem if I wasn't able to work. The entire experience, and the relative ease of taking care of it hammered home just how important all this is for running a business from home.
What would happen if your computer crashed? Tell me about it in the comments.