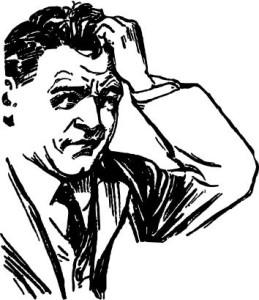 What is it about this one question that throws most of us for a loop? Why is it so hard to answer, and why does it cause such angst? It should be straightforward – simply tell someone in one sentence what you do – but rarely is it so easy. Part of the problem is that a lot of solopreneurs do a lot of different things for a lot of different people, and while there may be common threads, it's hard to group it all under one phrase and convey the full breadth and depth of what we help people with. Most of us care so deeply about our work that to try to sum it up in one sentence feels like we're negating the value of what we do.
I wanted to share some of my thoughts on this because I was in a lively discussion on the topic last week and I thought most of what people suggested would not work for me if I heard it when I asked someone what they did.
The criteria used by most of the people in the discussion was whether or not the person you were talking to asked a follow up question after you answered "What do you do?" The follow up could be anything such as "How do you do that?" or "Who do your work with?"
This isn't a bad start to evaluate how effective your one-sentence answer is, but it's too simplistic. Yes, you want someone to be interested enough to ask for more information, but the fact that they ask a question doesn't mean they are actually interested. Yes, I know that's harsh but it's true. It's like when someone says "Guess who I saw today?" – I may or may not care depending on who says it and the setting, but since I want to be polite and not hurt people's feelings, I'll almost always respond appropriately by saying "Who?" My response is not an guarantee that I'm interested.
It's the same with your one-sentence business description. Just because it invites a response or question doesn't mean you hit the mark. There are at least a few different reasons that someone would respond in a socially appropriate manner, and not all of them mean the person is interested.
The discussion started with someone describing an answer he heard at a networking event and most of the comments agreed that this answer was one of the best. When asked what she did, this woman said "I help mature women to look as attractive as possible." While I agree this is a great way to describe the benefit of working with her, it still doesn't tell me what she DOES. If I heard this, my mind would be flipping through pictures trying to make a match – is she a make-up artist, stylist, hairdresser, skin care expert, plastic surgeon, Botox practitioner or something else?
A lot of people maintain both in this setting and in marketing that the benefit is what matters and that people don't care how you get there. I would say that the benefit is the most important, but I can't be the only one who thinks that how you deliver it is also really important. Why is it important to me? In this case, it will dictate how much time I invest in seeing if we should get to know each other better. If she is a plastic surgeon, there's not a great fit for me because I don't know anyone who has plans to get surgery and in my entire life nobody has ever asked me for information or a referral on this topic. It would actually be a disservice to her to take up her time when there are people in the room she'd be better off meeting. If she is a make-up artist who mixes her own chemical-free, cruelty-free cosmetics well then I'm interested because that's something I'd consider using and I know a lot of people who would also be interested.
My follow up question would be something like "So, um, what do you actually do? Are you a make-up artist?" In my mind, I'd be thinking about how hard this person is making it on me to get the answer to a straightforward question. It would also put them way down on my list of people I'd consider referring business to. Do you communicate this vaguely with clients? Will people I send you have to work as hard as I did to get a question answered?
So, what's the answer? My current thought is that it's best to include what you DO along with the benefit you provide, such as "I'm a stylist who specializes in helping mature women look as attractive as possible." That way, you give someone a full picture that includes everything they need to decide if they want to learn more. I know I'd appreciate being answered in this way!
PS – If you go to networking events or want to start going, check out this free training by Sales and Networking Expert Don Talbert did just for my community: "3 Strategies for Really Working a Networking Event to Create a Continuous Flow of Leads, Referrals and Business." Grab the audio here: Networking training call