There's a lot to do when you are a solopreneur whether you have outsourced help or not. Some of what we tackle is simple, task-oriented things but sometimes it's a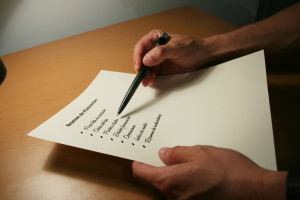 huge overwhelming project. I have a secret weapon that helps me immensely when I'm facing one of these giants.
One of the problems with big projects is that they can be overwhelming. When you are looking at your to-do list, it's much easier to tackle a simple task such as "update Facebook page" than it is to do a big project such as "promote teleseminar." What can happen is the simple tasks get done and day after day, the big project gets skipped because of the difference in perceived difficulty. There's also a difference in the satisfaction level of the two items. You can tackle a small task really quickly and get the satisfaction of crossing it off your to-do list right away. With a big project, it might be weeks before you get to cross it off. It's no wonder that we solopreneurs sometimes push important things to the bottom of the list.
Usually, though, it's the big, overwhelming projects that move our business ahead. The difference between successful, "I see you everywhere" businesses and "barely there" businesses are those big projects and the ability to get them done.
So how do I make those big projects do-able and not so overwhelming?
My must-have tool is a checklist. I do one for every big project, and often more than one if the big project has several smaller projects within it. The key to a good project checklist is in the details. I make my checklists as detailed as I need them to be to keep me out of overwhelm in focused on the project. How easy is it to get off track when doing a large project? Without my checklist, which functions as my road map, I can easily fall into the trap of wasting 20 minutes following rabbit holes on the web when all I wanted to do was Google how to do something. Often on a big project, the steps to complete it are comprised of multiple small tasks, and without a checklist it's easy to mix up the order (costing wasted time and effort) or get sidetracked and wonder "What was I doing when I got started on this?"
Even in a small project, there can be multiple steps and if for some reason I'm having trouble starting I know the best thing to do is to start by making a check list. If I still feel overwhelmed, then I know step 1 is too big and it needs to be broken down further. I especially need a lot of detail in my checklist if I'm trying to finish a project at night when I don't think at my best.
Checklists are great for helping you with a complex project even if you only do it once, but where they really come in handy is when you do the same project two or more times. Create your checklist on your computer, and when you are ready to do that project again pull up your file and you'll be starting way ahead of where you would have otherwise. Make it a point to refine your checklist with each use and before long you'll have a sleek, streamlined process that will make any project easier.
Do you use checklists to help you complete big projects? If no, what do you do when you feel overwhelmed by a big project?