I was out socially during a recent weekend, and found myself talking business with some people that I didn't know well. One of them was a very negative, naysayer,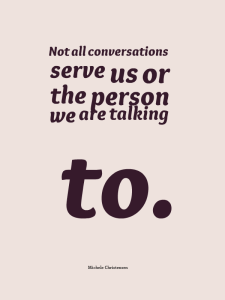 "can't be done" kind of guy. He was the kind of person who feels like nothing in his life is in his control – whatever happens in his life happens to him not ever because of anything he did.
Because I'm so passionate and excited about my business and I love the people I work with, I got very excited to be able to talk business with new people. The more I described all the good things that come from my business, the more negative he got.
He also had a way of thinking that is like nails on a chalkboard to me – he made up his mind before having any data, and no amount of evidence to the contrary would sway him.
Later, I realized I wasted a lot of energy trying to share my excitement with him. He's negative and has no sense of being responsible for his own life. He has no interest in learning new things or expanding what he knows of the world. In short, he was a fool in this respect and I wasted my time, energy and enthusiasm on him.
I can't go back and get a do-ever on this one, but I resolved right then and there to be done with having this kind of conversation with this kind of person. It left me drained and frustrated, and left him no more informed than he had been before.
Sometimes, when you have a mission you want to share it with the world. I know it takes almost nothing to get me talking about work. The thing is, not all conversations serve us or the person we are talking to. In this case, neither of us got anything out of it.
Your time and energy are precious resources and the source of all you business success. Use these resources well even when you are not working. They are very limited, and you can't get them back. Don't waste any time or energy on any activity that doesn't provide a return of some sort. The next time I feel myself being frustrated instead of feeling connected in a conversation I'll stop the interaction.
What kind of people drain you? How do you know when to leave a conversation? What kind of limits do you set in this area?