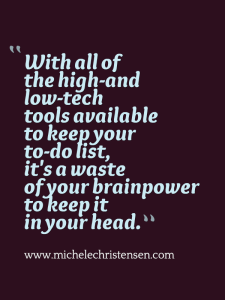 Lately, I've heard from a few successful business people that they don't keep much of a to-do list because "If it's important, I'll remember it."  Is this really true?  Is it a good way to run your business?
In both cases, the logic was something along the lines of running your business (and life) more intuitively and trusting your mind to call up the important items and leave the rest behind.  It sounds nice, and who doesn't want to have that kind of freedom?
My first concern with this type of task management is that it's an inefficient use of your best resource, your mind.  Lists can easily be kept on paper or in a tech resource, and both of these are very well suited to keeping large amounts of data.  Your brain isn't.  Humans have good retention for just a handful of things at a time, and then it gets hazy.  How much more creative and productive are you when the slate is cleared, your mind free and you are calm?
The second problem with this approach is that it can cause stress if you don't have absolute faith in your mind's ability to choose and call up the best thing to be working on.  Maybe some people's minds can do this and they are absolutely comfortable with that trust, but if you have any doubt at all you run the risk of using valuable brain power to keep track of things that could easily be stored elsewhere.  I don't doubt that most people's minds can call up some tasks to work on, but I know what I go through to pick the best thing to do right now and it's not a simple decision.  I'm not sure anyone's mind can be trusted to do long-term planning and to weigh all the factors in deciding what to work on.
My third and biggest concern with this is the waste of brilliant ideas!  How often does an idea come to you at an odd time when you would never expect genius to strike?  It happens to me a lot.  I often tell my clients to let me stew on something and I'll answer them in a few days.   Later, while I'm folding laundry, doing dishes or driving I'll get  great idea out of nowhere and the problem is solved.  If you don't record them somewhere, you run the risk of losing them forever and that's pretty sad.   Record it in some central place, and you have a stockpile of great ideas just waiting for you to act on them.
As with most things, the right answer is what works best for you.  It's important to make sure that whatever method you use to pick your next tasks is one that supports you doing your important work in the world and doesn't hinder you.