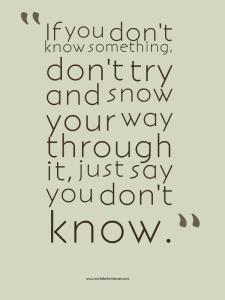 Why are we so hesitant to say these 3 words – "I don't know?"  I see this all the time.  People often express an opinion after saying they know nothing about the subject.  One of the contractors we used on our fixer upper house created a huge problem because he didn't know something and advised me on it as if he did.  I myself have been pressured to offer an opinion on subjects which I simply had no knowledge of or not enough information on.
This topic is on my mind now because weeks later, I'm still cleaning up the mess the contractor caused.  His credibility is shot in my mind.  I can no longer trust anything he says because now I know whether he knows something or not that his answer will sound the same.  If I make decisions based on his input, those decisions can be made on faulty data.  Had he simply said he didn't know I would have been able to ask someone who did and there would have been no problem.
I've been pretty careful up until now to qualify how well I know something before I give advice to a client.  I might know something really well, and I'll tell them so.  Or, I might only have read a bit and never done something in my own business and I'll tell them that too.  Sometimes my clients have done things that I haven't and I'll tell them that I can't add much to their experience at this time.
When I hear someone say "I don't know," it raises their trustworthiness in my eyes.  I now know that they will admit when they don't know something rather than snow me.  It also points to a level of discernment in their learning – nobody can know about everything, so it's important to decide what you do want to know about.  It indicates a precision in speech and thought I find admirable.
One thing "I don't know" rarely does is lower my opinion of someone.  I've had mentors who have said it, and I appreciate their honesty.  I've heard people in social settings say it and it just means they can't offer an opinion or assessment on the subject at this time.  I say it regularly myself.
The only time it does lower my opinion of someone is when the thing they don't know falls squarely into what they claim as their expertise.  Sorry to pick on contractors again, but there was a plumber who wanted me to tell him what size pipe to use under the house to make the plumbing up to code.  I had specified in his contract that the work had to pass a code inspection so this was a big gaffe by him and I obviously never hired him again.
How do you handle it when someone asks you something you don't know?  If you've tried to cover up or change the subject, I invite you to say "I don't know" without reservation.