It's been a great month with tons of entrepreneurs grabbing all the high-value free goodies offered in the Skyrocket Your Biz giveaway event.  You can still get your gifts today, but that's it – the event ends at the end of the day.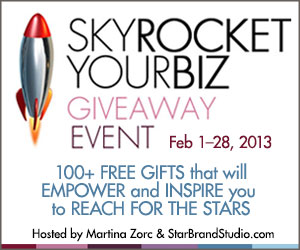 My colleague Martina Zorc of StarBrandStudio.com has put together an exciting event in which more than 100 experts — including me! — are giving away more than $13,000 of business building resources!
Click here to register and be prepared to be wowed!