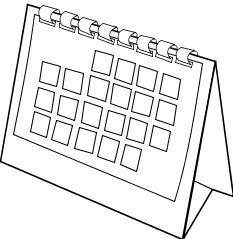 One of the best practices I've begun using recently is a weekly schedule template.  Probably like you, when I started my work at home business I thought my time management would be EASY!  I have SO much time now right?  Ha, ha, ha.  It's been way more complex than I thought it would be.  Along with that open schedule comes the complexity of almost infinite combinations of how to spend my time.  Not only do I work at home, but I'm also owned by my fixer upper house, so on top of work and personal responsibilities, I have an entire additional sphere to work in.
What makes scheduling so complicated is figuring out what the best things to be doing today are given that there are thousands of things I could be doing.  I was also constantly shifting between work, personal, home improvement, health, recreation, social time, etc.  When one was great, something else often suffered.
Early on, I adopted the practice of planning my week out on Sunday.  I try to do no work at all on Sundays, but this is the one chore that is really important.  It sets the stage for a calm, organized productive week vs. a week of scrambling and finding I didn't complete the things I needed to but got a bunch of less important things done.
The practice of planning my week out on Sundays was a big improvement, but I still found that at the end of the week I would have done great in one area only to find I missed something important in another.  It also made every decision about time much more complicated because I was picking from my entire universe of things I could be doing.
This is where the weekly template comes in.  I started to see that there were patterns in certain things.  I'm productive in certain ways at certain times.  I'm great in the morning and afternoon, but evenings are not so great.  I like to plan errands and appointments for mid-day which is between the morning and afternoon Los Angeles rush hour.  I need dedicated time every week for personal, business, home improvement, social and recreational activities.  My meals and snacks tend to be on a fairly regular schedule.  Using what I learned, I created a template for my week.
The template gives me a starting point for each week.  I use an electronic calendar, so it was easy to program it to repeat week after week.  Giving myself certain windows for certain things means that I know know the best time to schedule various things.  I just fit it into one of the pre-set windows for that activity.  If something comes up such as a client wanting to meet during time I have personal chores scheduled, it's easy enough to swap the time slots.
What I love about this is that I've pre-allocated my week in a way that suits me.  Far from being rigid, it's made me more flexible.  If something comes up that I want to do, I just add it in and make up later whatever I bumped out for that new activity.  At the end of the week, I've spent my time in a way that reflects my values.
Ready to try this yourself?  Here's a few tips:
Leave some extra time so you can handle unexpected things that pop up
Make sure to include enough sleep, recreation and free time
Get up, end your work day and go to bed at the same time every day to the extent it is possible
Pay attention to your when you are most creative and productive AND when you feel tired and dull
Realize that your template will always be adapting both on a daily basis for unexpected things and over the long haul as your life and business evolve
Do you use a template for your schedule?  Do you think you might give it a try?  Tell me about it in the comments.