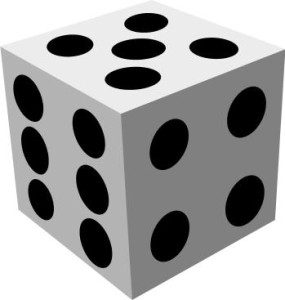 One of my least favorite things to hear when someone tells their story is how their success is due to a random event.  A lot of speakers and teachers do this and I always scratch my head and think "Do you really think this builds your credibility?  You owe your entire success to a random event and I'm supposed to follow what you teach?"
Yes, of course random events play a big role in everyone's life and in their business.  Since we can't control them or make them happen though, there's little to be learned from them for business success.  That's the rub – if someone is claiming their success is based on a random event then they have nothing to teach me about becoming successful because I can't make that same random event happen for me.
What is a much better success strategy is to focus on being prepared for, and taking action after random events.
Consider a networking or training event as an example – you pretty much never know who will be there so there's a lot of chances for random meetings.  Knowing this, you can show up prepared.  Have the materials you need.  Make your appearance convey what you want it to.  Learn good networking skills.  Have your calendar with you so you can schedule and confirm a meeting on the spot.  Have an idea ahead of time of how you respond to the different types of people you might meet (a referral source, a potential customer, someone you can refer to, etc).  Have good answers for what people often ask you.  This is how you prepare to make the most of random events.  If that one person that can make your business soar to new heights happens to show up, make sure you are ready for them.
The other key is to take action after your random event happens.  If you meet that one fabulous referral source  and wow them because you are so prepared, chances are nothing will happen unless you take action after you meet them.  The follow up action will look different depending on what the random event was, but there's almost always something else to be done.  It's not realistic to think that success will just drop into your lap with no action needed from you.
There's really two points to make here.  One is that random events do play a role in the success of your business, but much more important is what you do before and after those random events.  The second is that when you are telling your story, make sure to focus on your role in preparing for and responding to a random event when describing your success.  Your actions will impress me, not what random events happened to you.
How has your preparation and response helped you benefit from random events?  Share it in the comments.