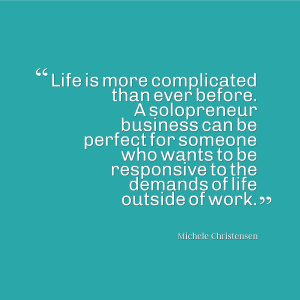 Modern life is complicated.  Errands, cleaning, mail, banking, child care, retirement planning, paying bills, fixing administrative mixups, home repair, scheduling, even planning fun time is all very complex.  It takes a lot of time and can be much more difficult when your schedule is not flexible.  A solopreneur business can help you keep your life on track and help you manage all these complexities.  You have much more freedom to work when you want and you have the luxury of taking care of personal business while most people are working.  My own solopreneur business got started when my husband was working long hours and we purchased a fixer-upper house.  I needed to be around to supervise the work and make sure everything was done right.
How might your life be easier if you had more flexibility?  Being self-employed may make your life easier to manage.
This is one of the topics I explore in my book "Is a Solopreneur Business Right for You?"  Flexibility is a great thing about having your own solo business, and I tell you other great things as well as some of the not so great things.  Grab your copy here!