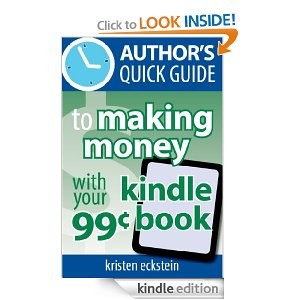 At the end of 2013, I published my first Kindle book.  It was a 99-cent book, and this price point fit nicely with my strategy.  My goal was to simply get a book published and go through the entire process end to end.  I wanted to start with something that would be an entry point for people thinking of starting a business.
I studied some on Kindle before writing and publishing my book, so I knew some of the ways you could make an inexpensive book work for you.  I included offers for free gifts to build my email list, affiliate links and links to my own products.
Unfortunately, I didn't know about Kristen Eckstein's book "Author's Quick Guide to Making Money with Your 99-Cent Kindle Book."  I could have done a lot better job with my book if I had read this first.
A lot of people have asked me about selling a book for just 99 Cents.  It seems like such a low price, how can it possibly be worth doing?
That's a question Kristen answers with gusto in this book.  The answer is that there are other ways to make money with a Kindle book other than the commission on the sales price.  She goes into a lot of depth and tells you exactly how to implement each strategy including her ninja tricks.  From the beginning, she spells out that making money on a 99-Cent book is not about the Amazon commission on the sales price but all about the back end, i.e. what you do after the sale.
As a Kindle author and a Kindle consumer, I recommend this book.  The book will pay for itself pretty easily if you implement just one strategy.  To make it an even sweeter deal, there's a Countdown deal going on for this book right now.  It's just 99 cents as of this writing, and it gradually goes back to the original price over the next few days.  If you are thinking of getting this book, now is the time!  Grab your copy and let me know what you think in the comments.