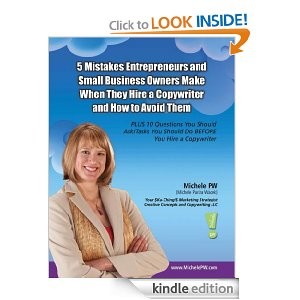 2014 is shaping up to be a year of books for me!  Not only am I writing the first book of a series, but I am reading a lot!  It's been said that you have to read in order to be an author, and reading is one of my favorite ways to learn so I've been doing a lot of it.



My latest book is from copywriter Michele PW and is called "5 Mistakes Entrepreneurs and Small Business Owners Make When They Hire a Copywriter and How to Avoid Them."  Michele is a copywriter herself and teaches other people not only copywriting but marketing and business savvy that come from learning copywriting.  I took a copywriting course with her called Juicy Online Essentials Marketing Bootcamp, and it proved to be a turning point in my business.  Not only did I learn a lot about creating my own sales copy, it helped me get really clear on what I offer and who I love to work with.  I've used the skills I learned in that class to help clients with their copy and marketing.
The book starts with an explanation of what copywriters do and why you would want to hire one.  In true Michele PW style, this section is a great example of direct response copywriting (i.e. copy that makes you want to DO something) and makes you want to read the rest of the book.
She also points out that since there is no certification or license, anyone can call themselves a copywriter.  What this means is that just because someone has designated themselves a copywriter doesn't mean that you should infer any level of experience or skill.  She gives detailed steps on exactly how to determine if a person has the qualifications you need for your work.
Another thing I loved about this book is the emphasis on you doing your part of the work when hiring a copywriter.  The best writer in the world can't work their magic if you don't give them the raw materials they need.  You've got to be clear on exactly what you want from the copy, who it is for and how they can benefit before the writer even gets started.
The final point I want to highlight is that she wisely draws a line between writing marketing copy and creating marketing strategy.  Some copywriters do both, but you shouldn't assume a writer can or will assess your overall strategy when you hire them to write a sales page.
The best news I have for you is that this book is free until Monday January 20th, so grab your copy before that sweet deal goes away!
Here's the link to the book:
5 Mistakes Entrepreneurs and Small Business Owners Make When They Hire a Copywriter and How to Avoid Them