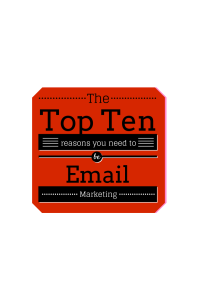 One of my big strategic shifts this year has been to devote even more time to email marketing.  I've let go a lot of what I used to do that didn't work as well.  I didn't start building my list or doing any email marketing until I had been in business for more than a year because I needed convincing that it was a worthwhile tactic for me to use.  Let me state that I am now officially convinced that email marketing is one of the most powerful ways for almost any business to market.  In this article, I'll give you 10 reasons why you need to be email marketing.

Less selling.  People will want to buy your products and services with less selling by you.
Keep in touch with people who are interested but not yet ready to buy.
Have a warm audience to test new ideas on and get feedback.
Be a better event participant and JV partner.  You are much more attractive to collaborators when you have an audience that you've already proven yourself to.
Decrease the variability in your business.  You'll be able to make offers to a receptive audience when things are slowing down.
You control when people hear from you instead of depending on them to visit your site at the right time
Earn the trust and respect of your audience over time
Non-monetary support – even people that don't buy can bring ideas, questions, participation, shares, etc
Better return on time spent because you are talking to a self-selected audience of interested people
Make more money.  It may not be the only reason you are in business but it has to be one of the reasons.
Are you convinced you need to be using email marketing?  If so, I invite you to join me on this special training They say "The money is in the list…" So where's mine?  I'll be co-presenting with Becky Sangha, The Online Video Marketer, and we'll be sharing how you can start your email marketing campaign in just a few weeks.  If you aren't convinced yet, I'd love for you to join me as well so you can get more information on how email marketing can help your business.  Click here to sign up.
Are you using email marketing in an original way?  Share it in the comments.  Please share this article using the Pin It  and social sharing buttons below.  Thanks!