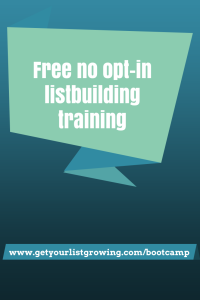 You've probably heard all the sayings about listbuilding.  People say things like:
The money (or gold) is in the list
You gotta be building your list
You need to have a list



What is meant by this is specifically an email list, that is a collection of email addresses from people who have specifically said they want to hear from you.  This is not to be confused with spam, which everyone hates.  Legitimate listbuilding includes sending email only to people who want to hear from you.  5 years into my business, email marketing is one the most important activities I do in my business.  It seems inconceivable to me that I didn't do any listbuilding or email marketing at first.
It's true however.  I didn't start building my list until I had been in business for over a year because I didn't understand how email marketing could possibly help my bottom line.  As a specialist in business strategy, I make it a point to never do anything unless I understand how it will contribute to my business so until I had a coaching session where it was laid out for me, I didn't start.
That's why I'm so excited to share this video training with you.  My colleague, Becky Sangha (The Online Video Marketer) has recorded a brand new training laying out exactly how listbuilding works.  If I had seen this video in that first year, I might have started my list sooner and I'd be that much further ahead!
Click the link below to watch this free, no opt-in training video.  It takes about half an hour, but it is well worth it!
Get Your List Growing Free training