Welcome to your book bonus!
Welcome and thanks for your recent purchase of the book "Is a Solopreneur Business Right for You?"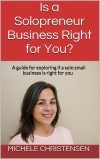 The book launch has ended so the fast action bonus Q&A call is no longer available.  To be alerted to future free training sessions, please use the sign up box to your right to start receiving my newsletter.  I look forward to providing you with useful information to build your solopreneur business.