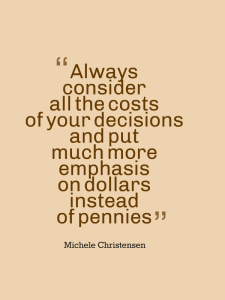 Have you ever heard this expression: "penny-wise and dollar-foolish?"  It describes being wise with small amounts of money but foolish with big amounts.  I heard a story recently that reminded me how easy it is to fall into this not only for solopreneurs but for big companies as well.
A friend of mine was traveling with his girlfriend and two dogs.  They arrived at night at a big, chain hotel and took a room for the night.  They didn't know the hotel allowed dogs and so the dogs slept in the car (it was safe, near their room and the temperature was fine).  The next day, as they were browsing the web to find a hotel for the next night, they found that the hotel they were in did in fact allow dogs so they let the dogs in for about 5 minutes before getting a call from management.
The concern of management was that while the hotel did take dogs, my friends were in a room that was not part of the hotel where dogs were allowed and they had not paid the pet deposit upon checking in.   Sounds reasonable so far, right?  The problem was that the management took a combative and accusatory tone from the beginning.  They insisted my friends tried to bilk them and had broken the rules on purpose.  The management also insisted upon a penalty fine of hundreds of dollars instead of just the $40 or so it would cost to deep clean the hotel room.  My friends offered to allow an inspection and offered to pay for the deep clean.  The hotel refused and wouldn't even come to the room to look.  My friends paid the penalty, resumed their trip and have told a lot of people about this experience.
Here is a perfect example of penny-wise and dollar-foolish.  The hotel management staff were so intent on getting the few-hundred dollar penalty that they lost not only all future business from my friends but also that of the many people they told.  Had they been gracious and just took enough money to make sure they weren't out of pocket, my friends and all of their dog-loving friends would now be fans of this hotel.
There's loads of other ways to be penny-wise and dollar-foolish.  Do you alienate customers and lose big sales over small money?  Do you buy the cheapest version of products or services and end up wasting precious hours because of it?  As an solopreneur, it could kill your business to think this way.  Always consider all the costs of your decisions and put much more emphasis on dollars instead of pennies.
Have you ever caught yourself being penny-wise and dollar-foolish?  How did you fix it?  Share your experience in the comments.