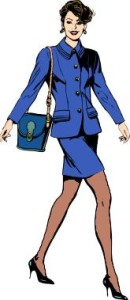 Most of the time, I focus strictly on business strategy.  Sometimes though, I like to write about topics that are not strictly business but are related to having a solopreneur business.  Here's one topic I feel strongly about: Staying safe when I'm out and about as a solopreneur.  Some of this article is targeted to women.
By definition, solopreneurs work alone a lot of the time.  Many of us work a lot from home, but if you go to events such as training or networking you probably travel some by yourself and it's important to keep yourself safe when you do so.
I feel particularly strong about this because I see too many women who don't take the safety precautions they should.  Sometimes it's because they don't know any better, but a lot of times it's because they don't want to be perceived as weak or fearful.  I get that it's not good to be perceived as weak or fearful when you are asking people to be your customer, but this is not a sound reason to risk your safety.  Staying safe in your surroundings is a totally separate issue from being a competent and trustworthy business owner.  Anyone who wouldn't patronize my business because I take my safety seriously is not someone I want as a customer.
I'm pretty assertive naturally, and being raised as the only girl with 3 boys didn't make me any more timid.  I've also been a weightlifter since high school, and I'm strong for my size.  People are often surprised when I'm the first to speak up and the most cautious in questionable situations.  However, I think my assertiveness and physical strength give me the freedom to do whatever I need to do to be safe without fear of looking weak or fragile.
I'm not an expert on safety, but here's a few things I do as much as possible when I'm out alone, especially at night.
Always stay alert.  Watch who and what is going on around you.  Pay attention if you are using your cell phone – everyone knows you are distracted and would make an easier target.  

Don't ever be afraid to offend someone if you get a bad feeling about them.  I've opted not to board an elevator when I would have been riding alone with someone I felt weird about.  Yes, it may have offended the other person but that's okay.
Lock you car door right after you get in.  It's common to get into the car and stow your belongings, adjust your seat, etc. before locking up and leaving.
Find someone trustworthy to walk to a deserted parking lot with.  I've asked for this lots of times and people are more than happy to help.  If there's nobody official around, I make it a point to leave with a group.
Make it harder to steal your purse, wallet, laptop, etc.  Carry a bag that closes completely (no open-top tote bags or purses), keep a hand on your bag while out in a crowd, and be conscious of how you carry these things.
Don't ever apologize for taking your safety seriously.  What do you do to keep yourself safe when you are out?