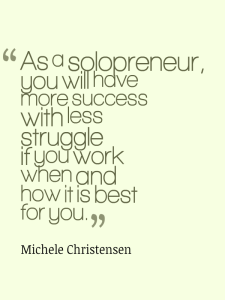 One of the great things about being a solopreneur is that you can set up your work schedule in a way that supports you doing your best work.  Not only is this a luxury and a nice benefit, but it's also an important ingredient to your success.  Working how and when you are at your best will help you deliver great results to your customers and clients with less struggle on your part.
One of the factors to think about is the times of the day during which you work.  When people first transition from a job to a solopreneur business, it's a big adjustment to learn to schedule your time.  When you work for someone else, you are usually on a schedule set by someone else.  When you have a solopreneur business, you are free to set your own schedule.  It's a huge benefit, but not as easy at it seems like it should be.  Take a look at how you naturally function during a day: Are you a morning person or a night owl?  When are you sharpest and when can you only complete the easiest of tasks?  Do you get a 3:00 lull like a lot of people?  Start to observe your daily cycles of productivity and see if you can shift your work schedule to take advantage of them.
On a larger scale, you have freedom to work more or less during certain seasons of the year.  You may be able to bundle projects and orders together, work hard for a few months then take it easy for a few.  You might like more free time during the summer, or over the winter holidays.  The variations are endless, but it is nice to know you can create some extra time by planning ahead.
There's another important element to doing your best work – how do you work best?  Do you need bright light and music?  Does a small office with a closed door keep you focused?  Can you find a creative jolt in the bustle of a coffee shop?  Do you crave company and opt to work somewhere other than home sometimes?  What kind of equipment do you need to do your best?  How do you like your space arranged?  Do you like to be adaptable and work from a variety of places?  Maybe you need to regularly change your environment just to keep from being bored.  Whatever those things are for you, make sure you figure them out and give yourself the gift of as many as possible.
Making sure you do your best work is a responsibility of solopreneur business owners.  Find out more about being a solopreneur, including what you need to know before you decide to take the plunge in my new book "Is a Solopreneur Business Right for You?"  It's available on Kindle now!