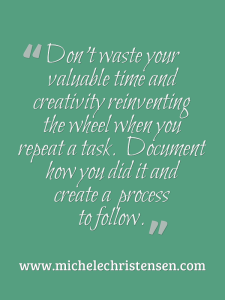 As a solopreneur, there is no shortage of things competing for your time.  On top of the activities that make money, there's a lot of back-of-house things to take care of.  Hiring help is one way to help get things off your plate, but if you aren't ready to do that you can start by creating systems and processes for the common, repeated activities in your business.




A system or process doesn't have to be complex or formal to be useful.  A system can be just a way you get the parts of your business to work together.  For example, you may have a system for tracking your social media reach.  A process can be as simple as a set of steps written on a piece of paper or in a document.
Systems and processes are valuable because they save you time and effort.  Instead of creating a process from scratch each time you do it, having something documented gives you a place to start at a minimum.  Once you've done something a few times, your process will be much more polished and precise.
Having a set way to perform repeated tasks frees up valuable brain space for more creative pursuits.  Instead of trying to figure out all the things you can do with your blog post once it's posted, you can focus on writing a good post and then just run it through your process.
I encourage all solopreneurs to begin creating systems and processes as soon as they start their business.  Start creating your process the first time you do something, and by the second time you do you'll have a process.
Your time and brainpower are too valuable to waste on reinventing the wheel for processes that can be done the same way each time.  Your creativity can serve a higher purpose than re-figuring things out.
Starting right now, observe what you do in your business and see what you can create a process or system for.  What is the first area you can improve?
Creating systems is on of the things I discuss for the very early stated of your business in my system "The ABC's of a Successful Solopreneur Business."  If you are just getting started or have never gotten your business fully set up, click here and check the system out.