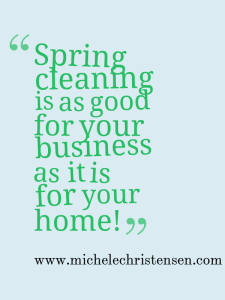 Around the beginning of the new year, there is a lot of drive and energy around changing things up.  It's a great time to take stock of what is working and decide what will be different in the coming year.  Now that April is well under way, it's time to take stock again and see how things are shaping up.  Are you where you wanted to be?  What's done and what's not done?
It's also a great time of year to do some spring cleaning in your business.  In the same way spring feels like a good time to air out, clear out and deep clean your house, it's also a good time to do the same for your business.
Here are a few places to get started:
Revise your autoresponder messages.  Review, rewrite, change the signature, change the greeting, change the language if it no longer suits you.
Update your information products.  What has changed since you first released it?  What have you learned that you can now add?  Is the price still appropriate?
Freshen your social media profiles.  Are your pictures all current?  Is your bio and business information polished?
Review your content calendar.  Has anything slipped?  Do you need to reschedule anything?
Check your big picture schedule for the year.  Are you ready for your next big projects?  Do you need to rearrange anything?
Clear your to-do list.  Are there any small, nagging tasks you could quickly complete?
Empty your email inbox.  Now is a great time to get your email under control.
I recently completed one of these projects myself by revising the ebook version of my ecourse "5 Essential Skills for Solopreneur Success."  It had been about 2 years since I last updated it, and I found lots of places to make improvements in it.  Check it out here.
What projects will you do to spring clean your business?