I'm so excited to share the great news – my new book is now live and available in the Kindle store!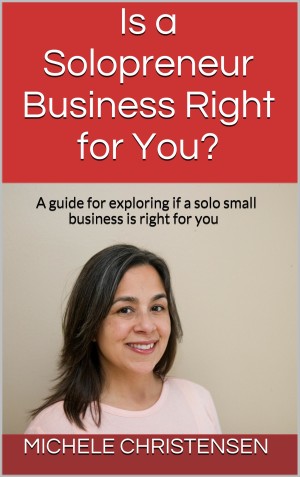 The book is called "Is a Solopreneur Business Right for You?" and it helps people explore that very question.  As you know, I'm passionate about the solopreneur business model and would love to see many more people become solo business owners, but even I have to admit that this model is not a fit for everyone.
If you haven't started your business or are currently in some other kind of business, this book will help you figure out if you should be considering a solopreneur venture.
My goal for this book was twofold: First, I wanted to help as many people as possible make a good decision about starting their business.  The second reason was that I want to introduce the concept of a one-person company to as many people as possible.  This is part of why I changed my title to include "Champion" for solopreneurs – I want to spread the word and encourage people to see the possibilities of this business model.
In line with these goals, I've given the book a can't miss price, so head on over and check it out: Is a Solopreneur Business Right for You?
If you buy during the launch period, you'll be invited to a special bonus call for fast action takers (after all, successful solopreneurs take fast action!).  The call will be a live Q&A during which I'll answer any questions about having a solopreneur business whether you are a seasoned business owner of just thinking of starting out.  We may even get into some coaching if time permits!
Here's what experts are saying:
"This is a powerful book that will settle the question you may have been tossing around in your head, "Is a solo entrepreneurial business right for me?" There is no blanket wrong or right answer, only what is right for you, and Michele will help you answer that question for yourself in this well written book."
~Becky Sangha, The Online Video Marketer, www.theonlinevideomarketer.com 
"What a wonderful resource for anyone considering starting a solo-business! Michele Christensen tells it like it is to help those exploring solopreneurship decide if it's the right business model for them." 
~ Dawn Mentzer – Dawn Mentzer Freelance Writing at www.dawnmentzer.com and author of "The Insatiable Solopreneur" blog at www.insatiablesolopreneur.com
"I myself am a solopreneur and Iwouldn't have it any other way……….Michele really lays it out for you, what it really is, why do it, the good the bad and the ugly. She gives you the data you need to make a choice. On every page, I was saying to myself, yes, yes, yes, that's exactly how it is."
~ Lisa Catarineau, Buzz Accelerator, buzzaccelerator.com